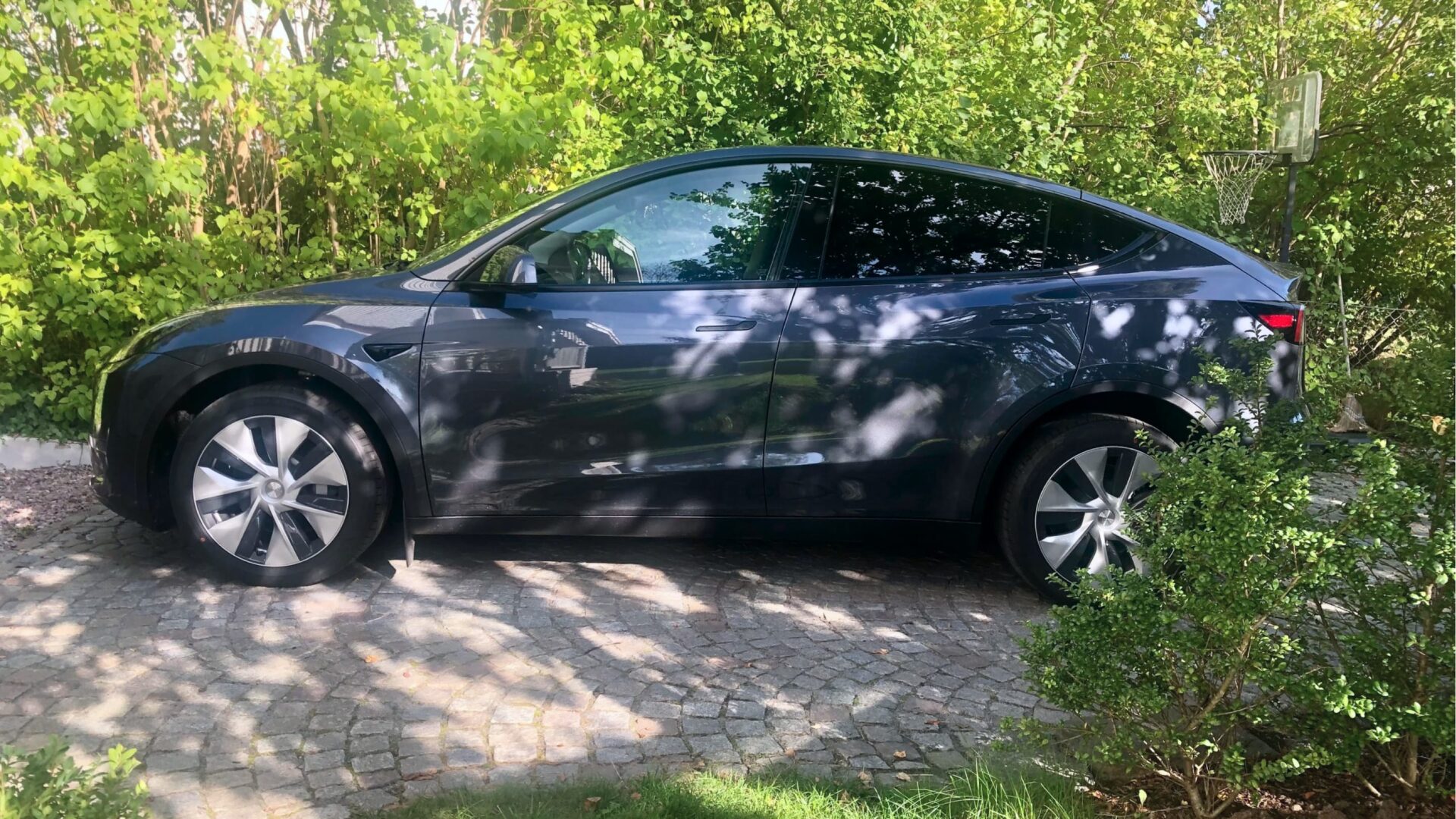 A review of the Tesla Model Y from a first time Tesla owner – A real "iPhone aha moment"
After a lot of research and pondering we ordered a Tesla Model Y in the beginning of 2021. It hadn't started selling in Europe yet and the plan from Tesla was to build it in the new Berlin Gigafactory. We were hoping to receive it late 2021.
The Gigafactory in Berlin took a little more time than thought to get up and running. So suddenly Tesla announced that they would start shipping the Model Y from the Shanghai factory to Europe.
So, should we wait for a Berlin built car that might have newer batteries and other possible improvements or go with the Made in China one?
At first I was thinking it would be better to wait. But after seeing some convincing videos of the extremely modern robotic manufacturing in China, and also really wanting a new car (driving an old Ford Focus) we decided to go for the MiC model. Life is short and there is always going to be a new better model around the corner.
Tesla delivery
A bit more than 6 months later we got a delivery date of September 10. When the date arrived we went out to the Tesla delivery center close to Arlanda Airport to get the new car. We hadn't even test driven it yet but we tried a Model 3 a few times and imagined it to be similar but bigger.
The first impression was that it was quite a lot bigger than the Model 3 and quality wise it felt much better than the Model 3 we tried before.
"The real aha moment arrived when I drove the Model Y home and felt just how spacious, quiet and fast the car was"

Oskar Glauser
But the real aha moment arrived when I drove it home and felt just how spacious, quiet and fast the car was. Accelerating on the highway was so much fun and felt a bit like being in control of your own roller coaster.
Model Y – a car from the future
I had test driven the Volkswagen ID4 before to have something to compare with. But even though it is on paper a similar equipped car, the Model Y felt more like it was from the future. Or maybe IS the future and the ID4 is more like an old gas car with the gas engine replaced by batteries and an electric engine.
I think the interior of the Model Y contributes to creating that future feeling. For me it felt a lot like the first time you tried using an iPhone with a touch screen, after having used Sony Ericsson phones with buttons and a small screen before. It took a little time to get used to the touch screen and no physical knobs interface, but when I did, after driving it for a few hours I felt I can never go back to an old type of car.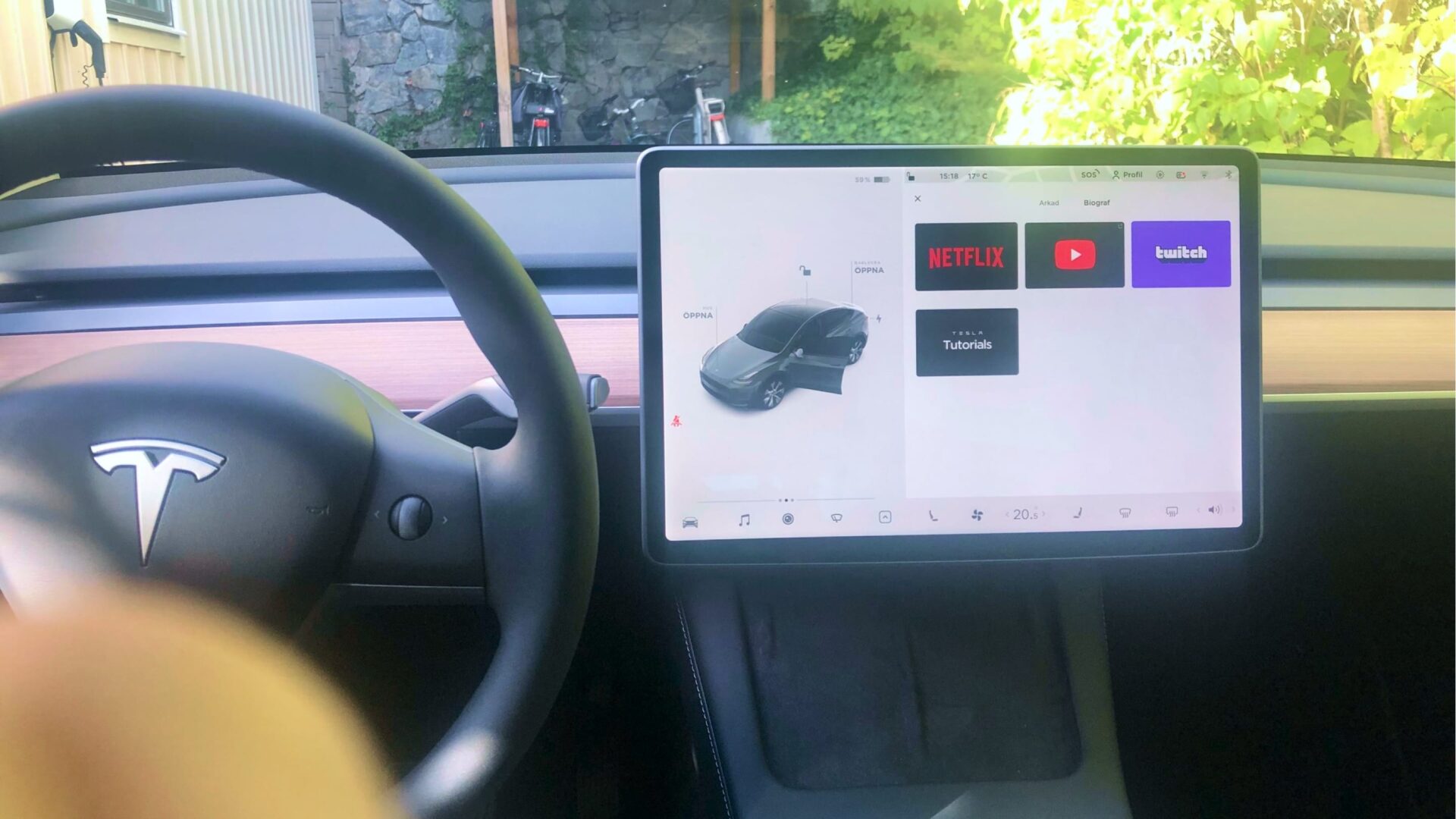 The 3 best things about the Tesla Model Y
It's really spacious compared to a Model 3 or a lot of other electric cars. The glass roof adds to that feeling.
It's quiet and really fast, 0-100 km/h in 5 seconds. It's so much fun to drive.
The sound system and software is really great. Over the air improvements and lots of nice features.
The 3 worst things about the Tesla Model Y
The wood panels behind the steering wheel and screen feels a bit out of place and kitchy. Otherwise the car feels very well designed and super modern.
There is a lot to learn and unlearn when going from an old type of car to this "car from the future". Like not using the brake pedal at all and being careful with the "gas" pedal.
Just like when I started using an iPhone my next car will probably also be a Tesla, and it probably won't be cheap. Other cars just feels old and clunky.
Thinking of ordering a Tesla car? Use my Tesla referral link and get cash back on your purchase and more.
The price in Sweden is starting at 719.900 SEK which is quite a lot. But when you compare it to a Volkswagen ID4 or a Volvo and add the extras that are included in the base Model Y, like a better sound system, it's roughly the same price as other cars but with the benefit of the Tesla design, Supercharger network and Tesla software.
I knew that charging the Tesla would be cheaper than filling up a car with gas but I didn't realize how cheap it would be. We buy our electricity from Tibber and can set our Easee charger to charge the car when the price is at the lowest. Right now gas prices are going up, so there is a dramatic difference in how much it costs to drive somewhere compared with an ICE car.
Tesla Model Y facts & features
Cargo space of 2 100 liter
507 km of WLTP range
217 km/h top speed
0-100 km/h in 5 seconds
Supercharge 270 km in 15 min at 25 000+ Tesla Superchargers world wide
Autopilot included with Full Self Driving coming soon 😀
15″ touch screen with over the air software updates
Wireless phone charging for two phones
Play music from Spotify, radio, bluetooth and more
Entertainment system with Netflix, Youtube, Caraoke and bunch of games
External speakers for Boombox audio
Heatpump, heated seats and steering wheel and scheduled departure for cold weather driving
Auto windscreen wipers and headlights
Voice commands in most languages including Swedish
All-glass roof with seamless view of the sky
Available in white, black, midnight silver metallic, blue or red
Optional tow hitch
5 seats, also available with 7 seats
Conclusion: we have a winner
This is the best car I've ever seen or driven, not that I have driven that many cars but even seeing a really expensive Audi, Porsche or BMW on the road doesn't compare to this car. Even though it costs a lot of money (at least for me) I think its one of the best purchases I've made. A lot like paying more for an Apple product.
"I think its one of the best purchases I've made. A lot like paying more for an Apple product."

Oskar Glauser
I've yet to try the Autopilot but it's so fun to drive so I just want to keep driving it myself. No need for Full Self Driving just yet. Looking forward to my next road trip somewhere. In the meantime I just have to make up excuses for take the car for a drive.
No more burning gasoline. The future is electric!
PS. Thinking of ordering a Tesla car? Use my Tesla referral link and get cash back on your purchase and more.