Tesla Model Y review after the first year
It's been a bit more than a year after we picked up our 2021 Tesla Model Y. A Midnight Silver model with black seats. Read more about the delivery and first impression here.
Daily usage
We have been using the car a lot as it's super fun to drive and there's always an excuse to take it when going somewhere. Also as it's green electricity it doesn't feel as bad taking the car as with a fossil fuel car.
We have driven the kids to activities like hockey practise, gone shopping, to the gym and on small trips around town. It's very easy. Just enter the car, set to drive and away you go using one foot driving.
I've almost never used the brakes on the car since we got it. Which might actually be bad for the brakes?
We charge the car at home when electricity is the cheapest which means we pay about $3 for charging per month on average. Even months when the electricity have been expensive the costs have been something like that. Practically free to drive.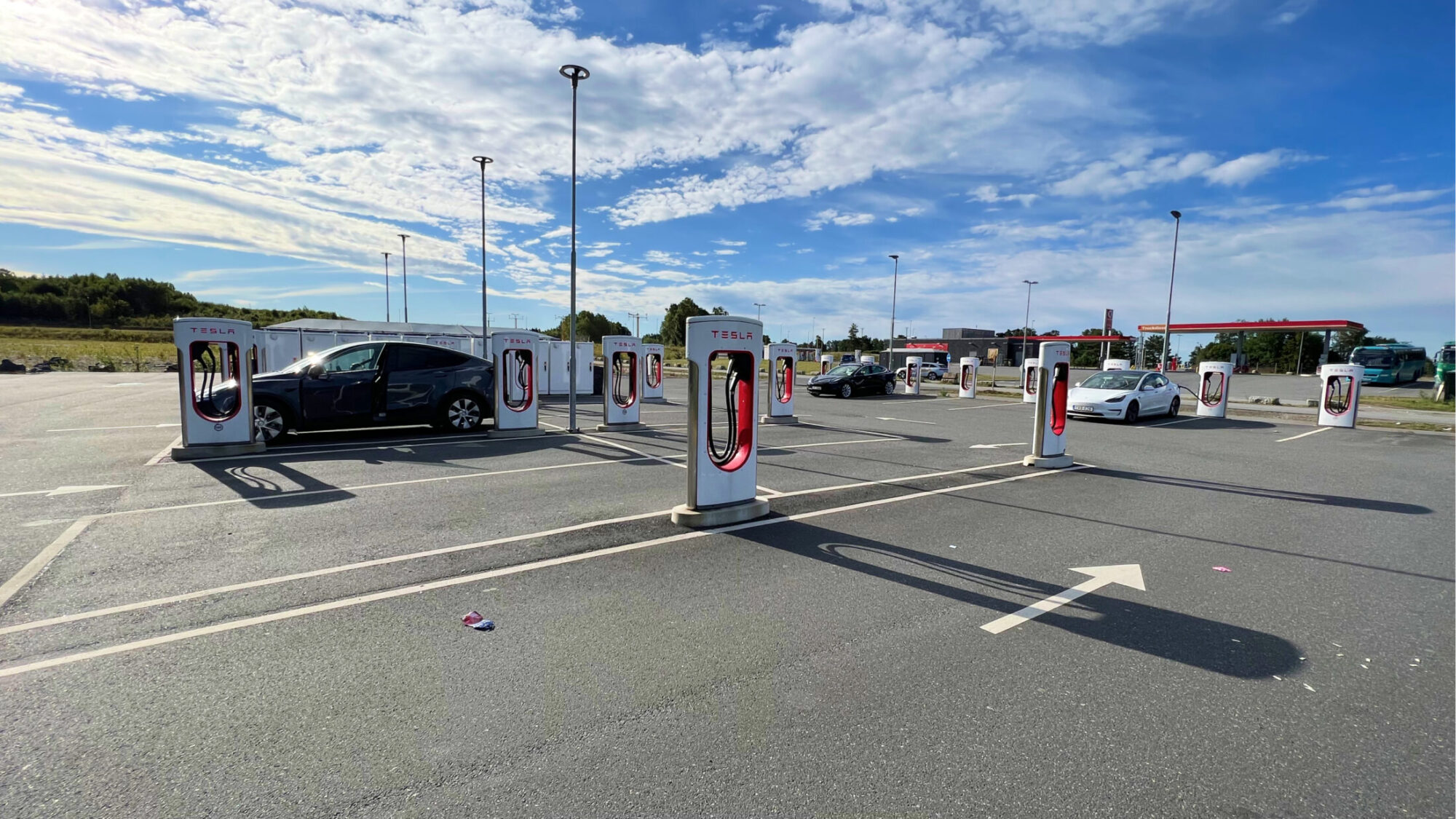 Longer trips
As we have had 3,000 km free Supercharging from the start due to recommending the car using our affiliate link we have done som really cheap (basically free) road trips.
We drove to the cold north of Sweden; Vemdalen for skiing this winter. It's a 500 km or 6 hour trip if you hardly stop. The range of the Tesla Model Y is supposed to be 507 km but I guess that is under perfect conditions.
We had a roof box on top, the cargo space crammed with equipment, clothes and food and where two adults and two kids in the car. Also it was quite cold outside. But we only needed to stop once on the way to charge. But stopped another extra time as well as we wanted to top up the battery before getting to our destination.
While on the ski resort we could charge the car using a regular electricity outlet each night. It's not recommended but it works and gave us about 10% extra each night.
We also did a trip to Skåne this summer to visit some friends, super easy.
On longer trips you just enter your destination and it tells you where to stop for charging and for how long. So easy. It just always works. See all Tesla Superchargers.
And as our free Supercharging ended in September me and my daughter took a road trip to Oslo in Norway which is just around 6 hours from Stockholm where we live.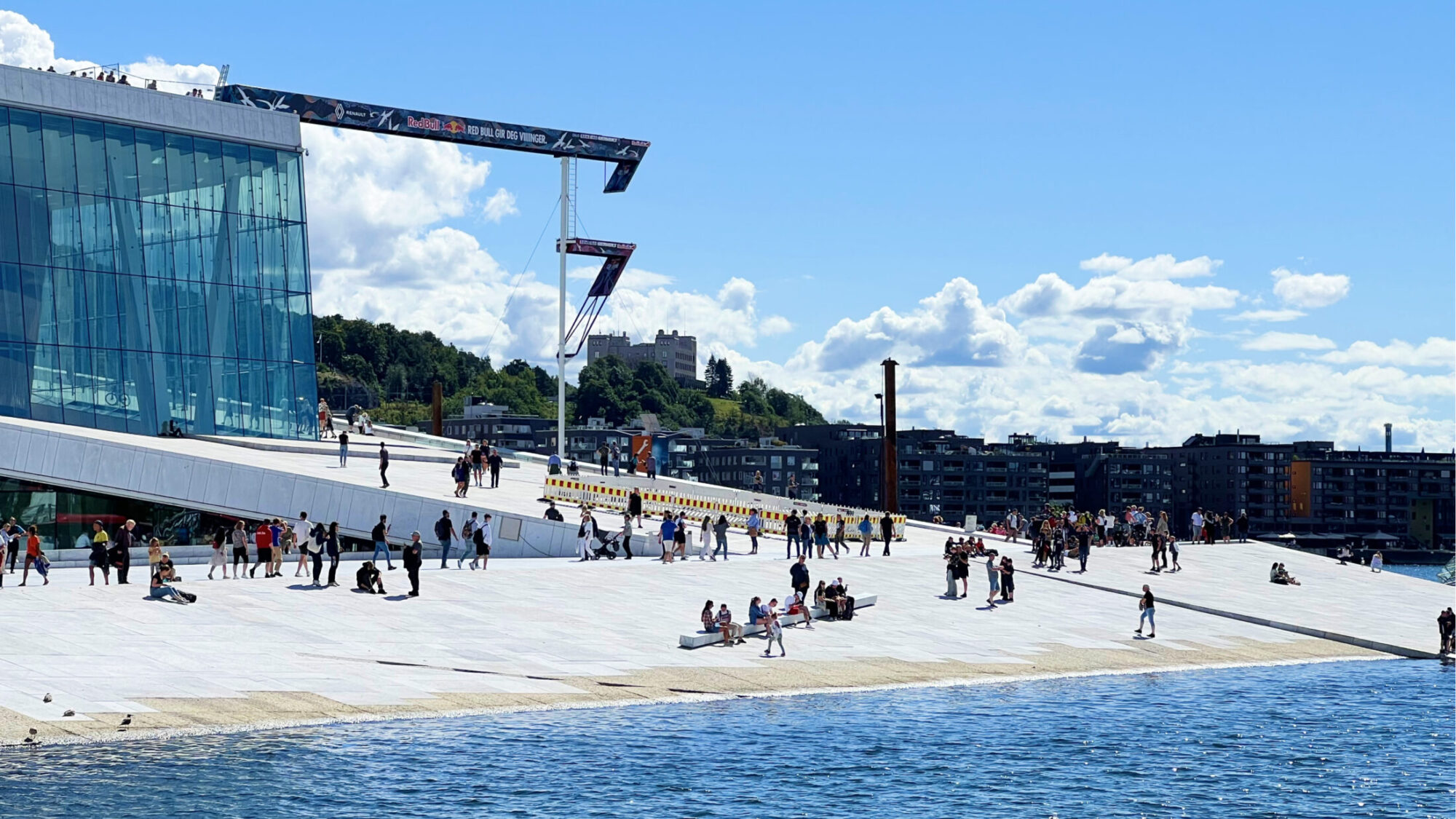 I had bought a special Tesla mattress that fitted in the back of the Model Y and to test it we slept in the car for two nights. Not super comfortable but it worked and as we could park basically for free in Oslo we saved a lot of money on doing that.
Oslo was really nice to see. Lots and lots of Tesla cars and other electric cars everywhere.
Service
We haven't needed any service to the car yet. Everything has been working as it should. There have been some service messages but that have been temporary and gone away almost immediately.
We have filled up on wiper fluid once and changed to winter tires and then back to summer tires. That's about it.
Software
There have been constant updates during the year making the car better each time. After each improvement you tend to forget how the car was before as the UI is very intuitive and feels like it "just works".
One of the big updates I think was the side camera view when blinking left or right. Making the side mirrors almost unnecessary. Also a lot of improvements to battery usage, heating and autopilot have been made during the year.
Roof rack
We did get a roof rack after delivery as it wasn't available first. It was a bit cumbersome to install as you attach it to the glass roof and need to tighten the screws just about right, not too loose, but not so hard you break the glass.
I guess the design is done that way to make the car look as good as possible. Not many people in California uses roof racks. But it works.
It does drain the battery a little more but not so very noticeable. But if you want to optimize your usage it can be annoying. We will probably take the skis inside the car next time we go skiing.
Tow hitch
Tow hitch was another thing that wasn't available at first when we got the car. We bought the tow hitch and got it installed by Tesla.
Works well and we have used it to tow our small boat and a trailer to throw away trash and twigs, leaves and apples from the garden.
Other Teslas
There have been more and more Teslas popping up around town since we bought our car. Seeing Model Ys and Model 3s is very common now. But there still is a sense of community when you spot one. It's something special to own this car/spaceship I think. I'm guessing it's not the same with an ID4 or similar.
Wear and tear
I don't notice any significant battery degradation on the car. We have been driving trough som really bad and cold weather and on some bumpy roads but it looks kind of new any way.
There are some marks on the paint and I bought some Tesla Midnight paint to fix it. You can still see it but only if you look really close. Otherwise it feels quite fresh.
Things I think could be improved
The suspension is quite sensitive. Mainly noticeable on bad roads but can be quite bumpy.
The car is very silent but on high speeds there is still a lot of road noise. Would have been nice with a little less as the car is so quiet in itself.
A tiny bit longer range could be nice on some longer trips. Especially in cold weather.
The cameras lag a bit. Would be nice with higher refresh rate.
It would have been nice with V2G in the future. Being able to power our house with the car. Maybe there is a reason for not supporting it.
In really bad weather the cameras sometimes are covered by dirt and rain. The front camera has heating to prevent but it could be a problem if you drive in really bad weather and need the cameras.
It is an expensive car. Even if it's great. I wish it was more affordable so more people could switch to electric.
Most of these things are either improved upon in newer models or will be in the future I think.
What I like the most about the Tesla Model Y
It's so much fun to drive! It handles like a race car and you are always tempted to compete with other cars on stop lights.
You don't have to think about charging or where to go and how. Just plug and go. Enter a destination and drive.
On long trips the auto pilot is amazing. With our old car I used to get really tired from driving on long trips. Now it's no problem with a 6 hour road trip.
The audio system is great. One of my favorite places to listen to music. And a plus when you have kids that you can direct the sound to the front or back seat if you want.
Lots of cargo space. It feels like you never run out of space to put your things in.
No service or problems at all (for us at least). It just works. Like a big Apple device on wheels.
So to sum it up we love the car and wouldn't trade it for any other car except maybe a newer version of the Model Y.
Our next car will most likely be a Tesla as well. At least if we can afford it.
PS. Thinking of ordering a Tesla car? Use my Tesla referral link and get cash back on your purchase and more.